Advantech's DLT Series of Rugged Vehicle-Mounted Terminals Enable Intelligent Tunnel Constructions
30/8/2563
In China, fast-growing industrial development and urban construction have led to a significant increase in tunnel constructions for various industry sectors, such as mining, rail transportations, and underground public pipelines. To improve the tunneling construction efficiency and personnel safety, a leading construction machinery group in China installed Advantech's DLT-V83 series of rugged vehicle-mounted terminals (VMTs) on its tunnel boring machines (TBMs) and automated drill jumbos to provide an intelligent computing solution for underground tunnel construction.
The customer previously used VMTs with low resistance to shocks and vibration. Unable to withstand the long hours of vibration, the device frame was damaged, causing delays to the construction. Consequently, the customer realized they needed industrial-grade VMTs with high resistance to shocks and vibration. Underground tunneling involves extreme work environments with harsh conditions. Additionally, because China covers a vast geographic area, large-scale tunneling projects can involve multiple sites with differing temperatures and humidity levels. Thus, the customer required VMTs that were rugged, IP66 rated for ingress protection, and able to withstand a wide range of operating temperatures and humidity levels (up to 70%).
Advantech's DLT-V83 series of rugged VMTs
Features:

- 15 /12" rugged VMTs

- Intel® Core™ i5-4300U processor

- All-around IP66 rating for ingress protection

- IK08-rated impact resistance

- MIL-STD-810F and 5M3 certified for shock resistance

- Wide operating temperature range (-30 ~ 50 °C/-22 ~ 122 °F)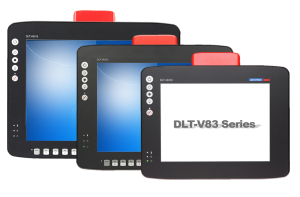 The customer fitted all its all TBMs and drill jumbos with an intelligent operating system. Advantech's DLT-V83 VMTs were employed as computing terminals for accessing the intelligent operating system.
DLT-V83 VMTs enable data visualization and accurate operations
Drill jumbos were equipped with various lasers, scanners, and sensors for collecting diverse drilling information, such as the position, angle, and depth of the drilled holes. External cameras installed on the drill jumbos are used to monitor on-site operations. All data collected by these devices is transmitted to the DLT-V83 VMT for real-time processing and analysis. The analysis results and data insights are then displayed onscreen for data visualization.
TBMs were equipped with various sensors to continuously transmit data, such as shield operation, mud-water pressure, and soil depth, to the DLT-V83 VMT for accurate monitoring of the excavation area. With DLT-V83 VMTs, operators can easily monitor all construction data, control the excavation direction, and more effectively conduct rapid automated tunnel construction.
DLT-V83 VMTs facilitate efficient and reliable operations
High-performance computing capabilities are required for real-time data processing and operations analysis. DLT-V83 VMTs feature an Intel® Core™ i5-4300U processor that supports complex data and graphics processing as well as seamless data transmissions.
MIL-STD-810F- and 5M3-certified for shock and vibration tolerance, DLT-V83 VMTs can withstand hours of extreme vibration to deliver stable and reliable operation during drilling and excavating tasks.
Underground construction environments, especially when using drill-and-blast tunneling methods, are typically very harsh. All equipment is directly exposed to high levels of humidity due to groundwater seepage. Because DLT-V83 VMTs are IP66 rated for protection from water and dust ingress and can withstand high humidity and varying operating temperatures, they provide the ideal computing solution for harsh underground tunneling construction environments. These terminals not only improve the overall operating efficiency, but also facilitate effective control of construction quality and costs.
Deploying automated and intelligent construction machines can greatly improve construction efficiency and tunnel quality. Accordingly, Advantech will continue to collaborate with leading construction machinery manufacturers and partners to develop more economical and reliable intelligent tunneling solutions.