COM Express® Sparks Design Flexibility and Scalability for Inflight Entertainment Solutions
16/5/2562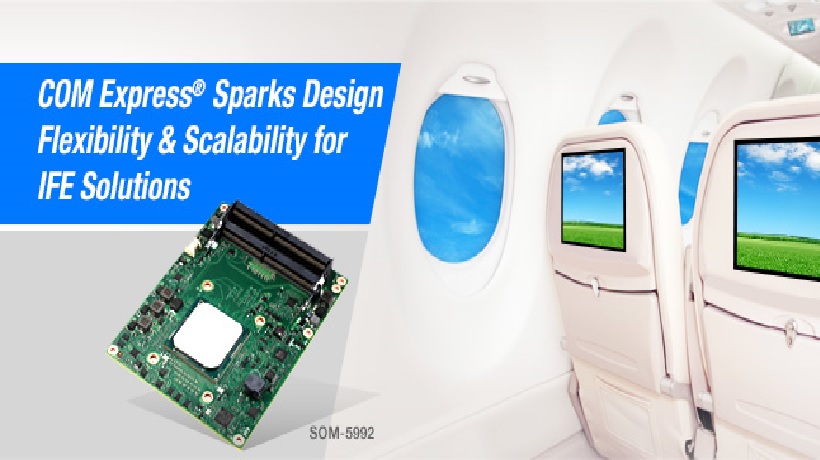 In this case, the customer is a Tier 1 inflight entertainment (IFE) solutions provider involved in producing everything from DSU(digital server unit) head-end systems to VDU(video display unit) seat back displays.IFE offers entertainment solutions onboard aircrafts — systems that play movies, music, and games. IFE suppliers are constantly adapting by reviewing consumer market conditions and exploring new ways in which they can provide optimal entertainment options through onboard devices.
IFE providers view passengers bringing mobile devices onto the aircraft as one of the biggest sources of competition. To stay ahead of the game, one of the key differentiators airlines offer today is access to newly released movies that are not yet available to the general public.US carriers typically do not use in-seat IFE solutions as they are too costly. Instead, in-flight WiFi allowing passengers to connect their devices to onboard entertainment is frequently provided as an alternative. Today, the total IFE market base for in-seat installation hits about 200k units annually.

Challenges and Objectives

The customer was looking to upgrade their solutions with higher bandwidth to provide the best possible in-flight entertainment experience for passengers. At the same time, they needed to keep their system costs competitive, power consumption low, and didn't want to add extra weight.The customer's requirements are summarized here:
More server bandwidth while keeping system weight and cost down.
A scalable solution to future-proof possible bandwidth requirements.
A solution with a longer product life cycle: the customer's standard design cycle was 3-5 years and the prior solution they were using had a limited ability to add extra bandwidth.
The Solution

The SOM-5992 COM Express Basic Type 7 Module was selected for this project for its stock availability, cost effectiveness, customization capacity, low power consumption, and its 2 lanes of 10Gig E capacity. Without this product, the customer would have had to revert back to making their own chip down design using the Zeon-D.
Customization implemented:
Eliminated some of the Broadcom switches that were used in the previous design. The result saved on cost, lowered power consumption, and reduced overall system footprint and weight.
Complied with the ARINC 600 industry standard footprint to accommodate server size constraints.
The Result

Advantech was able to provide an evaluation board within a relatively short time frame. The cost reduction from removing the Broadcom chips was estimated as saving $360,000 from the customer's annual purchase quantity. The customer is very pleased with Advantech's next generation COM module. Based on the product roadmap, the unit will afford more bandwidth and will support up to 8K resolutions. Advantech's delivery was in-sync with the customer's future demands for higher resolution movies and better music quality.