Nursing Carts with High Performance and Multiple Expansion Capability
6/5/2563
Nursing carts are lightweight and durable mobile stations used in medical facilities for storing and conveying medications and emergency medical supplies, as well as for dispensing medication and assisting with nurse education. Nursing cart applications are designed to enhance patient care, decrease paper work, and ease the workload for nurses and other healthcare professionals.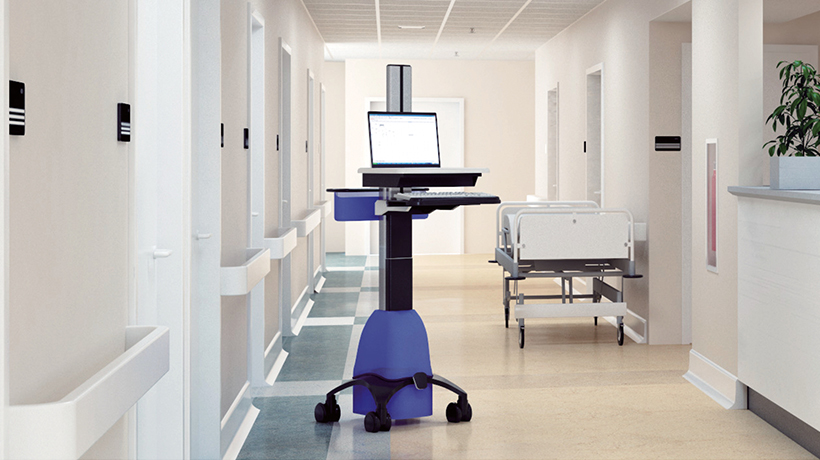 One of our customers based in Europe in the medical field wanted to upgrade and enhance their nursing carts' reliability and capability for data processing and medication delivery. As the nursing carts needed to transfer critical data back to the nursing station instantly, WiFi signal strength was crucial. The customer was looking for a control board with high CPU processing and graphic performance, and multiple expansion capability for WiFi/3G modules.
To meet the customer's requirements, Advantech provided AIMB-232 THIN Mini-ITX motherboard integrated with an EWM-W157H wireless module. AIMB-232 uses Intel Mobile UTL processor for better performance, along with 40-45% height reduced low profile I/O design and medical compliant thermal solution, which is ideal for portable medical applications. EWM-W157H allows 433 Mbps wireless data rates for high-throughput wireless applications.
High Graphic Performance with Fanless Design
Advantech's AIMB-232 is equipped with an Intel Mobile UTL i3/i5/i7 processor, provides three independent displays, and supports high graphic performance up to 4K at 60Hz resolution. Mostly importantly, AIMB-232 is low power and fanless design to offer noiseless and easy-to-maintain solution which is suitable for the nursing cart application in the hospital.
Expansion Capability for WiFi/3G/LTE Modules
With two Mini PCIe expansion slots onboard for WiFi/3G/LTE and storage, AIMB-232 is compliant with EWM-W157H WiFi modules, which are fully compatible with Windows and Linux OS.