Advantech Launches New SKY-642 High Density GPU Server for AI Training
27/3/2562
Advantech, a leading provider of intelligent server solutions, is pleased to announce the release of its newest 4U rackmount high density GPU server containing more GPU cards for efficient AI training: the SKY-642. Over the past two years, Advantech has embraced AIoT development and aims to position itself as a comprehensive AI platform solutions provider. Toward that goal, we have launched a broad selection of rackmount GPU servers from 1U to 4U.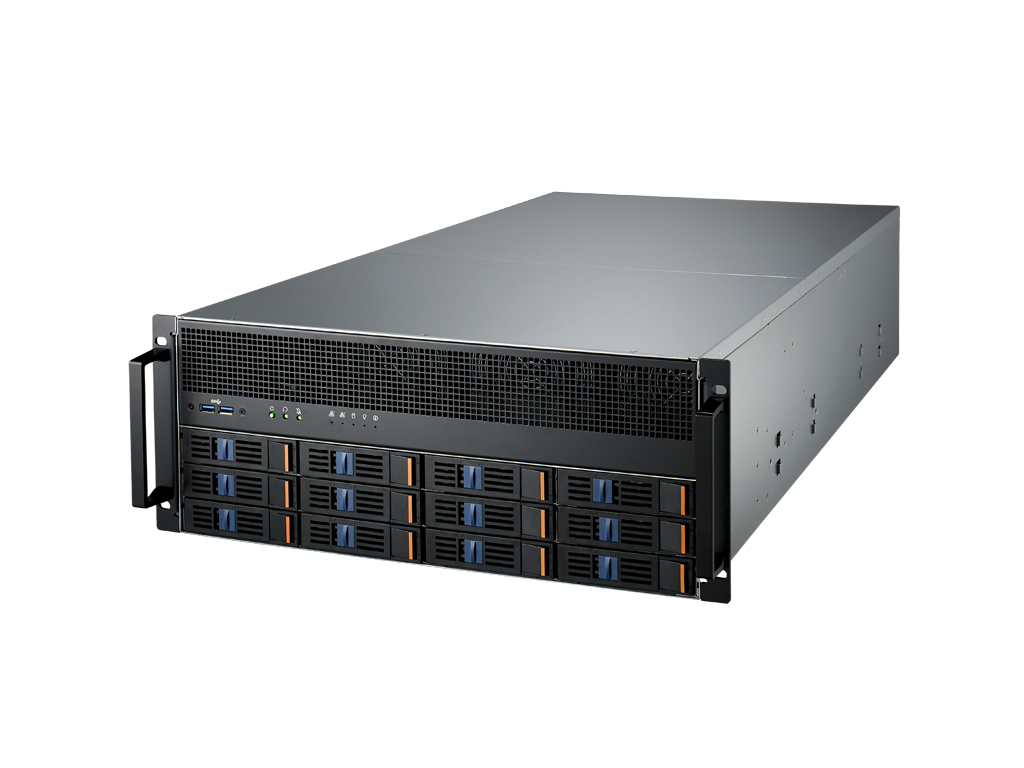 The SKY-6000 GPU server series is powered by dual Intel® Xeon® scalable family processors with each highly scalable GPU-optimized server supporting up to 10 NVIDIA® GPU cards. The Intelligent Platform Management Interface (IPMI) and smart fan system ensure better temperature control and thermal management. Each GPU pair includes one high-speed PCIe slot for parallel applications like artificial intelligence (AI), deep learning, surveillance, autonomous vehicles, traffic and security control, automated optical inspection (AOI), high performance computing (HPC), and virtual reality.
SKY-642: 4U High Density GPU Server
Advantech's SKY-642 4U high density GPU server reflects the growing trend toward big data collection and analysis. It supports up to 10 NVIDIA V100 32GB PCIE cards with peer-to-peer features ensuring maximum bandwidth between each GPU pair. 12x 2.5" and 3.5" swappable bays at the front support the greatest possible capacity and efficiency of storage for the server. The IPMI monitoring system includes 10 GPU cards and HDD status. Smart fan control ensures stability for the 10 GPUs in the SKY-642 by efficiently regulating temperature.
Fast Peer-to-Peer Communication between GPUs
In the deep learning and big data analysis fields, applications require more GPU capabilities that work in parallel with expandability. By adopting a dual root complex, the SKY-642 enables peer-to-peer features that shorten the latency between GPU cards while accelerating computing time.
Better Thermal Management and System Fan Design
LSince the SKY-642 contains 10 GPU cards, thermal management is an important issue. The nearly cable-less design improves the efficiency of the system while a dual layer hot-swappable system fan increases air flow and air pressure for cooling the 10 double deck GPU cards. A separate air tunnel for CPU and GPU design ensures all GPU cards are not pre-heated by the CPU. System fan control is smarter than ever — a separate fan zone controls each system fan individually depending on the max loading of the GPU and CPU. Fan control reduces acoustics for the SKY-642 across different workloads.
Intelligent Platform Management Interface for Remote Management
With IPMI 2.0 specification support, the SKY-642 allows users to monitor, manage, and control the server on the remote side. Users can monitor the sensors and receive alerts if any of the sensors fail. Monitored sensors track the temperature of the GPU cards used in the server and manage the event log to find out important information. Remote server control is made possible by using the IPMI KVM or power control for the server to power on/off and for the power cycle.
The SKY-642 GPU server is available now. For more information please contact your local sales team or check the details on our website. (www.advantech.com)